The information about the Keynote Speakers of ICSSH2016 is as follows, which will be updated regularly.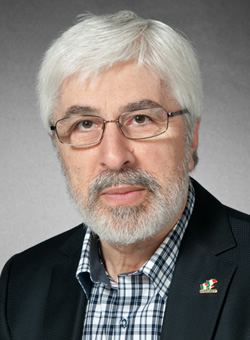 Gabriel Niccoli
Department of French and Italian Studies, St. Jerome's University/University of Waterloo, Canada
Biography: Gabriel Niccoli holds a PhD in Comparative Literature from the University of British Columbia. Having taught Italian literature in Canadian, American, and Italian universities, he is currently Full Professor in Italian Studies and Comparative Literature, and Chair of the Department of French and Italian Studies, at the University of Waterloo (St. Jerome's). He has published on 16th and 17th-centuries dramatic theory, on European Baroque pastoral drama, and on women writers of the Italian Renaissance. He has edited a volume on Italian-Canadian immigration studies, currently editing a collection of critical essays on the concept of Nostos in this field. A monographic study on the 16th-century Venetian woman writer as literata is also forthcoming. Recognized with the premier University of Waterloo's "Distinguished Teacher Award", Prof. Niccoli also serves as Honorary Vice-Consul of Italy in Canada.
Topic: Staging the Pastoral in 16th-Century Italy and France
Abstract: The attempts to represent the immaterial world on the 16th-century Italian and French pastoral stage reflect in large measure authorial patterns of behavior conducive to an ecumenic and comparative definition of the dramatic pastoral genre itself. The French playwrights (i.e. Montchrestien) probe the Italian canon (Tasso, Guarini, Groto) in order to arrive at a type of synthetic staging of the Italianate conventional devices, a theatrical approach which leads to a serialization of pastoral commonplaces, often leaving the dramatic texture of the individual play somewhat underdeveloped. The French playwrights seem to rely on their audience's demand and complicity in order to utilize the popularizing vogue of the Italian canonical pieces as dramatic preparation for the seemingly unaccountable staged action.