2018 3rd International Conference on
Social Sciences and Humanities
May 27-29, 2018
Hangzhou, China
Submission:

Jan. 20, 2018




(Extended to Apr. 20, 2018)

Notification:

20-40 days after the submission

Publication:

15-20 days after the final edition

Conference:

May 27-29, 2018
The conference accepts English and Chinese articles.
The information about the Keynote Speakers of ICSSH2018 are as follows, which will be updated regularly.
Dr. Harry Kuoshu, Professor
Department of Asian Studies, Furman University, USA
Biography: Dr. Harry Kuoshu is Herring Professor of Asian Studies and Film Studies at Furman University in the United States of America. He is the author of Metro Movies: Cinematic Urbanism in Post-Mao China (2011), Celluloid China: Cinematic Encounters with Culture and Society (2002) and Lightness of Being in China: Adaptation and Discursive Figuration in Cinema and Theater (1999). Although his primary academic interest is in Chinese film studies, he has published on wider topics in cultural studies, literature and theater in various academic journals. He is well respected in his field of studies and has served in various leadership roles including one term as the president of the Southeast Conference of the Association for Asian Studies.
Topic: Crazy Stone Phenomenon in the Perspective of Neo-noir Networking
Abstract: The Crazy Stone phenomenon in China is often described as the black carnival of both the movie goers and the concerned scholars. The filmic and discursive enthusiasm for Crazy Stone has drawn much attention to the carnival theory by M. Bakhtin and the postmodern theoretical attention to mass culture. Surveying the cultural implications of craziness and how Crazy Stone connects with both the global as well as domestic film cultures, the author of this speech observes the absence of such concepts as film noir and neo noir in this round of discussion and argues that Crazy Stone discourse and many of the Crazy Stone initiated films constitute an episode of global neo noir. Aided by black humor, neo noir better connects with many concepts frequently surfaced in the Crazy Stone discourse, such as mass culture, carnival as a communal patterning of visual imagination, mediascape for cultural communication through films, a cross-cultural usage of dog images, as well as cynicism.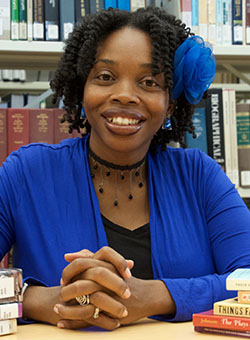 Dr. Phyllisa Deroze, Assistant Professor
English Literature Department, United Arab Emirates University, UAE
Biography: Dr. Phyllisa Deroze is an Assistant Professor of English Literature at UAE University. She is a 2013-2014 Fulbright Scholar grantee to the UAE. Her areas of specialty include contemporary American Literature, African American Literature, Drama, and Medical Humanities. Her most recent publications include "Ruined as Documentary Drama" and "Deconstructing the Urban Circuit: Gospel Musicals, Langston Hughes's Legacy, and Tyler Perry's Contemporary Influence." She holds a PhD in English Literature from Pennsylvania State University.
Topic: Writing What I Know: An Examination of Literature Written in English and in a Mother Tongue
Abstract: This paper examines two novels written with a combination of Standardized English and a Mother Tongue. By focusing on the Chinese American writer Amy Tan's novel The Joy Luck Club and African American novelist and anthropologist Zora Neale Hurston's Their Eyes Were Watching God, this essay will highlight the benefit of combining both languages within a single text. Likewise, Raphel Confiant's "In Praise of Creoleness" is include to provide an alternative perspective. Confiant, unlike Tan and Hurston, refuses to combine dominant language in his fiction, opting to write only in his mother tongue - French Creole. I argue that by combining the languages, the literature becomes more accessible while providing readers a unique experience of linguistic navigation that aids in the preservation of an authentic cultural moment.
Copyright © 2016-2018 3rd International Conference on Social Sciences and Humanities - All rights reserved.